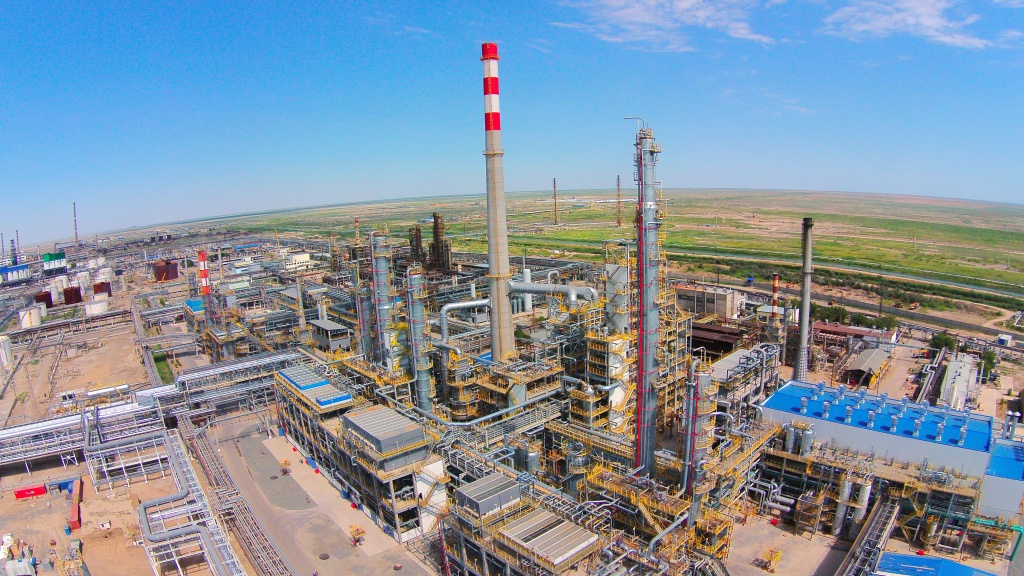 An installation of catalytic reforming with continuous regeneration of catalyst (without hydrotreating) and with benzene extraction unit was built in 2014 and consist of following sections:
Section 100-200. The catalytic reforming of naphtha, which is based on the licensed technology of the AXENS company.

This process includes 2 stages:
Catalytic reforming of naphtha, including furnace of reactors, catching and stabilization of leaving streams;

Circulation and continuous regeneration of the catalyst including transportation of solid material, and also technology of a moving layer.
A design capacity on raw material - 1 mln. tons / year

Raw material of CCR is mix of hydrocleared gasolines from the block of hydrotreating of existing installations CHU GD (combined hydrotreating unit of gasoline and diesel fuel) and LG
Purpose:
1) production of high-octane component of gasoline with RON 103;
2) raw material for production of benzene and paraxylene.
Section 300. Extractive distillation unit «Morphylane»

Purpose: allocation of aromatic hydrocarbons (benzene and toluene) of a light reformate.
The process is based on the different solubility of aromatic and non-aromatic hydrocarbons.

There is a N-formylmorpholine in solvent.
Performance 271 th. tons / year (on extractable aromatic hydrocarbons).
Raw material of the section 300 is high-octane components of gasolines (or raw material for future complex of aromatics) and raw material of the section 300.
Section 400: separation unit (rectification) of benzene-toluene fraction and obtaining of benzene toluene:

Section 500: Auxiliary section. The section 500 includes:

preparation unit of gaseous fuel;

preparation unit of liquid fuel;

flare system;

unit of supply of cooling liquid to pumps;

unit of supply of technical air, nitrogen and air of the oxygen isolating device;

drainage system of dumping of hydrocarbons.