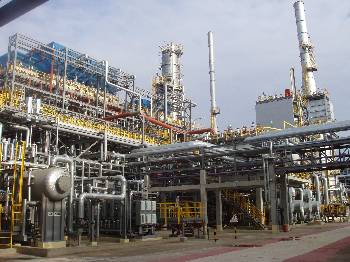 Design, supply of equipment and construction of diesel fuel hydrotreating and dewaxing unit are fulfilled by corporation JGC Corporation (Japan) on technology of UOP firm (USA).

General designer of the enterprise – is JSC "Nizhegorodniinefteproekt."

2006 - commissioning of the Unit.

Diesel fuel hydrotreating / dewaxing unit includes following blocks:
block of day tank of raw materials;

block of reactors;

block of steam-stripping column;

block of fractionation column of products;

block of compressors of make-up gas;

amine absorber block of flue gas;

scrubber block of LPG.
Diesel fuel hydrotreating/dewaxing unit is intended for cleaning kerosene / diesel fuel from sulfur, nitrogen - and oxygencontaining hydrocarbons on the special catalyst in the presence of hydrogen, and also for decomposition of paraffinic compounds in diesel fuel for the purpose of decrease of cloud point and setting point for winter period of a season.

Raw materials are straight-run diesel fuel and light gasoil of coking.

The block of amine absorber is intended for cleaning from sulphur compounds flue gas from:
gasoline hydrotreating section;

networks of refinery after existing naphtha hydrotreatin,, LG unit;

disposable evaporation container 20-D-004 and receiver of the steam-stripping column 20-D-008 of this unit.
Scrubber block of liquefied petroleum gas (LPG) is also intended for treatment from sulphur compounds LPG, coming from gasoline hydrotreating section.

Cleaning is made by nonsaturated (fresh) amine, arriving from unit of receiving sulfur.

Moreover, unit is provided by node of flare discharge for separating from gases, discharged to the flare, drip, liquid hydrocarbons and well to prepare soda solution, designed to neutralize the equipment before opening for repair.
Design capacity of diesel fuel hydrotreating and dewaxing unit in continuous operation 330 days / year is:

kerosene / diesel of direct distillation
during summer period 1300000 tons / year (164 tons / hour);

during winter period 1200000 tons / year (151.5 t / h)
light gasoil of delayed coking unit (DCU)
during summer period 176 000 t / y (22.2 t / h);

during winter period 120000 t / y (15.1 tons / h).
Production: unstable gasoline, stable gasoline, kerosene, diesel fuel with lowered content of sulfur, winterized diesel.
Characteristic of finished goods: